Wulven Studios, in my absence, has released a couple spoilers for the upcoming expansion. Since they failed to courteously await my return, I must now go back in time to evaluate these four pieces of virtual cardboard.
Thanks a lot, guys. :P
Spoil #1: Furrion Terror
Spoiled by Gondorian on 9/21/2012
Source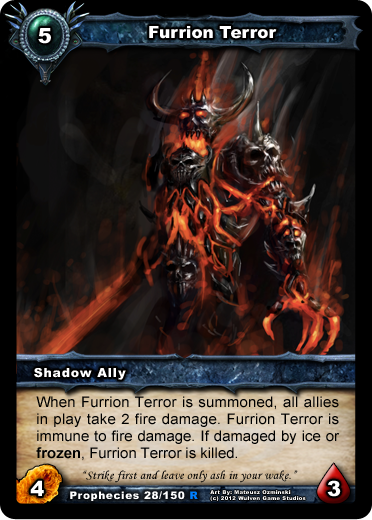 The first thing to note about this card is the attack symbol in the corner, which is new.
This ally's basic attacks deal fire damage. Will that be important? Of course it will. Read the card's text.
Furrion Terror has three abilities, which is the first ally to do so (even Aeon Stormcaller and Ogloth the Glutton only have two). It has four if you count the damage type.
The first ability is essentially Ice Storm, except it affects both sides of the board. This means it can serve as a
187 creature
, and even better, could also clear two or more allies by itself. All those Dirks, Tainted Oracles, and Birgittes disappear in one fell swoop.
The second ability is extremely important. Immunity to fire damage. Ignoring whatever else may come in Prophecies, this card is immune not only to itself, but also to Fireball, Majiya, Supernova, Molten Destroyer, Engulfing Flames, Flaming Arrow, and Wrath of Summer. This is a pretty impressive list.
The third ability, relating to Ice damage, is rather insignificant. Snow Sapphire and Voice of Winter are cards, sure, Voice being particularly good against this card, but the Terror only has 3 health. Eladwen Frostmire kills it in one shot anyways, and if this thing is frozen for more than a turn it should be easy to shoot it down, especially for mages that have the most elemental affinity cards. Ice Storm is really the only card from Call of the Crystals that benefits.
Overall, how good this card is really depends on the rest of the Prophecies set and how common fire damage/2hp allies are. Its abilities are amazing in the right meta and the downside (at least for now) doesn't seem very big. 3 health is very unfortunate, which is why fire immunity is going to be the huge determining factor on whether he's playable or not. As long as Millstalker decks and other allyless strategies are still popular, the success of the Terror will be limited.
Furrion Terror rating: 6/10.
Lots of potential, but very situational. Great for sideboards, not playable in the maindeck unless the meta is screaming for it.
Spoil #2: Paladin of Unaxio
Spoiled by Kyle on 9/27/2012
Source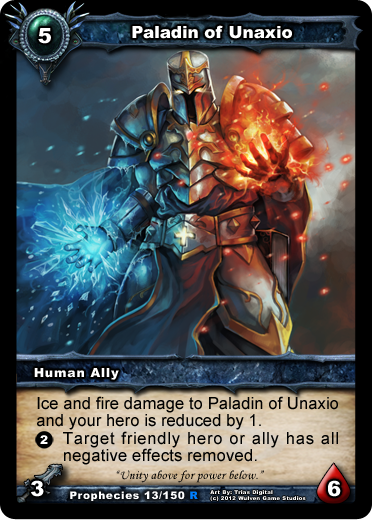 This card is huge. My first reaction is just how much this thing can tank. The Paladin survives a Supernova with 2 health, requires two Fireballs or Eladwen shots to take down, and takes no damage from the ablaze DoT. He's reminiscent of Armored Sandworm, but with three attack as a trade-off for vulnerability to Logan, Evil Ascendant, etc.
The second ability is insane at first glance. iClipse became World Champion on the back of Healing Touch, and this card does the best part of HT for one resource less and without having to spend an extra card. The Paladin behind an Aeon has to be one of the most dangerous things in the game, as now even cripples, disables and freezes can't keep back the beats and both allies can survive the formerly powerful Supernova.
In all honesty, looking at both this card and the previous spoil, it looks like the dev team is trying to kill Supernova for good.
It's important to note that as good as the status effect removal is, part of the beauty of Healing Touch over alternatives in the past has been the surprise factor. Although Lance can get a same-turn trigger, overall the Paladin IS expensive if you're playing him just to remove Jasmine's charm for a turn.
Paladin of Unaxio Rating: 7/10.
This ally is plenty multi-purpose, has a great effect, and does a good job at tanking. However, versatility may be good, but ASW is a better tank, Healing Touch has a surprise factor the paladin lacks, and 3 attack is on the low end for 5cc allies. It's good and serves multiple roles, but just isn't capable of winning games by itself. If you want it for any given part over the whole picture, there are better alternatives out there.
Edit: Community member and forum moderator Danae pointed out that this card removes only negative effects, not attachments. In other words, It can be used against cards like Mugged or Clinging Webs but not Crippling Blow and Captured Prey like Healing Touch can. This in fact makes the card slightly worse than I had originally thought.
Spoiler #3: Layarian Diplomat
Spoiled by Kyle on 10/4/2012
Source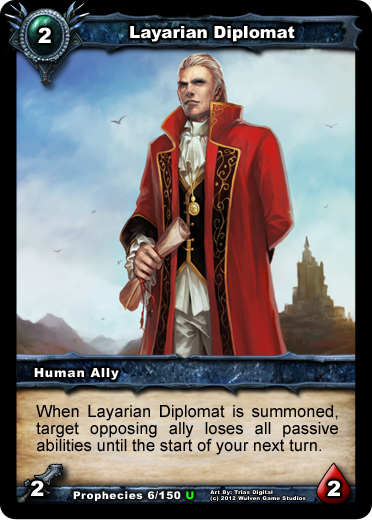 This is a really interesting card. Allies that immediately effect the board are good, and this one strips away all the damage prevention that seems to be important not only in Call of the Crystals but in Prophecies as well.
"My protection broke."
For anyone unsure of what this card means, A passive ability is one that is constantly active. An active ability, by contrast, is one that needs to be activated by the player to have an effect.
As an example, look at Aeon Stormcaller.
Protector is always there, working, so is a passive ability that can be negated by Layarian Diplomat. Aeon's second ability, which buffs an ally, must be activated by the player and so the Diplomat can't prevent it.
The simple way to look at it is that activated abilities have a cost, when passive ones don't. This isn't always necessarily the case, but makes a good general guideline. Currently, every active ability in SE has a number in a black circle (resources) or an amount of shadow energy followed by ':'. That resource number can be '0'; however, it's still there to indicate that the ability isn't passive. For an example of an activated ability with no cost, see Death Mage Thaddeus.
Let's take a quick look at what this card can do.
Disables Protector, enabling you to target other allies.
Turns off Defender, allowing you to attack first in combat.
Ignores the armor abilities of Infernal Gargoyle, Armored Sandworm, Furrion Terror, etc.
Allows you to attack allies like Nightshade and Erika Shadowhunter that have stealth.
Removes Ambush, stopping an opponent from attacking for profit.
Stops Earthen Protector from reviving an ally.
Stops Ogloth the Glutton or Carniboar from buffing themselves.
Removes the buff from Aldon the Brave or Hellsteed.
Removes the debuff from Raven Wildheart.
Stops the card draw effect of Tainted Oracle and the payback effect on Deathbone.
Prevents Bad Wolf from healing.
Turns a Spark back into a 1/1 or Pack Wolf into a 2/3.
Shuts off the card draw from Wulven Tracker.
That's a lot of options from CotC alone. This card affects a large majority of allies, and while some are rarely game-changers shut off for a single turn, others, such as Protector and damage prevention, will make or break the game.
The difficult thing with this card is that by itself, it can't do much of anything. You still need to spend two or more things to kill your one target, instantly making it worse than just a plain old Mind Control.
As a control-style player, I want this card to be great. However, it really needs a meta to support it. This is extremely far from an auto-include. Even if it is amazing in a given format, the fact remains that it really is card disadvantage, even with the 2/2 body.
I honestly can't imagine ever wanting to include more than two copies in a deck. Enters-play effects are great, but they need to be less situational and/or have larger bodies in order to warrant being played.
Layarian Diplomat Rating: 6.5/10. Can do lots of things that haven't been seen on any other card. That's the only reason why rating stretches this high. This is playable if you literally have no other way of dealing with allies like the Sandworm, and only if. One deck can use it in one situation and the rest will just play better cards. At the end of the day, this card is a temporary means that still requires you finding a permanent solution.
Spoiler #4: Io Void Leviathan
Spoiled by Kyle on 10/22/2012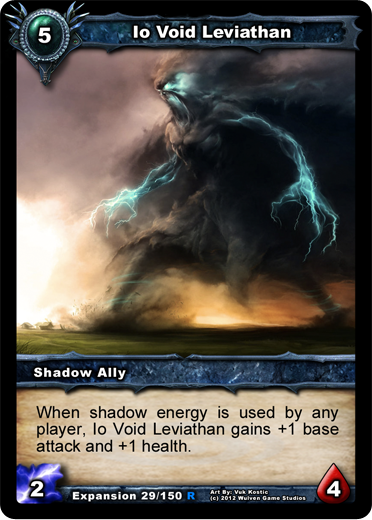 (The icon means electric damage)
At first glance, this looks like it could be good.
Guess what: it's not.
Look at the base size. A mere 2/4. That means if you use a shadow ability the turn Io comes down, it becomes the size of a Plasma Behemoth without the ability. The deck that wants to play this card the most is Moonstalker, and Moonstalker would rather run PB, Shadow Knight, Molten Destroyer, etc. in that slot any day. It takes too much of an investment to make a big ally out of this card.
All that said, there is a deck I'd like to have this card in.
Zhanna.
Wizent's Staff would make Io Void a really cool card, and I love that interaction. Unfortunately, Io is a shadow ally, meaning this can never be. Since they aren't of the same set, this won't even happen in Meltdown.
If we see some Wizent's-style card for shadow (wulven in particular), re-evaluating this card may be necessary. Otherwise, I'm not a fan.
It's true that shadow heroes can use Wrath of Summer. However, look at the rest of the spoils. We have two cards that are immune to ablaze and a third that shuts off Io. WoS is not only a relatively weak card, it also requires the opponent play allies vulnerable to the damage.
Io Void Leviathan Rating: 3/10. There's plenty of good 5cc shadow allies already. The fact is that Io is too slow to compete with the others. Without some way to accelerate the ability, his size is largely dependent on what the opponent chooses to do with their energy. When your win condition relies on if your opponent decides to make it huge or not is when you're essentially forfeiting games. I'd give it a 2 if it weren't for the sheer hilarity of how big it could get in a Moonstalker mirror.
---
Overall, a bit disappointing. Largely, the potential of these cards relies on the power of the rest of Prophecies, so I hope my concerns are un-warranted. However, we could be facing a set of big, flashy cards that look cool at first but in practice are underwhelming.
It's good to have cards like that in a set. In a game with 350 cards, not all of them can be playable. What worries me is that these are the cards chosen to show off the set. They're an example of what we should expect.
I have a feeling there will at least be a few gems in Prophecies when it finally releases at some point next year. However, these aren't it. I wouldn't hope much for the next set in general, but I still have faith in the very least that some new decks will come out of the expansion on par with Baduruu.

What I'd like to see spoiled next is a simple common. I'm fine with it being an ally, as this set is mostly based around diversifying the ally pool. I want to see a simple common that could be played, an alternative to the current options. Nothing complex, nothing flashy, just a playable alternative to the current choices that could compliment the hero they're played in better.

In short, I want to see an example that proves Wulven is providing us tools to build decks with, not building decks for us.
Until next time,
MistahBoweh